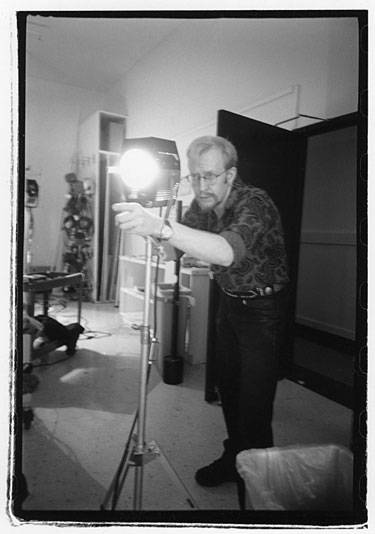 Studio Manager/Director of Photography
R/GA
1999 - 2017
As the in-house Director of Photography, Photographer, and Studio Manager at this industry leading and award winning ad agency, I shot everything from small set product photography to large, full crew HD video shoots, including narrative, interviews, off-figure fashion, beauty, lifestyle, editorial, location shoots, live events, and portraits. I worked closely with the Motion Graphics team to provide assets for CG integration. Clients included Nike, Samsung, Google, Verizon, Avaya, McDonalds, Tiffany's, McCormick, Walmart, Mastercard, Pepsi, Jet.com, Unilever, Converse, Barnes & Noble, Subaru, L'Oreal, Ad Council, Abercrombe & Fitch, Nokia, Chapstick, Johnson & Johnson, SCJohnson, Target, Sharp, Purina, IBM, and many more.

In my early years at R/GA, I was a staff video editor, cutting R/GA's only broadcast commercial during this time for Yahoo/Purina, which was aired during the National Dog Show on NBC. I also edited Bob Greenberg's National Design Award video, which was screened at the White House.

I shot all the R/GA internal photography and video for its global branding, internal branding, competition entry, media kits, publicity, and sales tools, and collaborated extensively with the executive team throughout my tenure to produce and evolve R/GA's copious amount of branding assets.

In my final two years at R/GA, I worked closely with Bob Greenberg and the architects Foster and Partners to design a state-of-the-art soundstage complex for R/GA's new global headquarters, as well as supervising the expenditure of a half million dollars for new equipment and infrastructure purchases.
Studio Manager
CyberSapien Entertainment
1996 - 1999
Working for this start-up entertainment company of eight people, I built the video shooting stage, and performed all the photography and video production. I also did all the video editing using a D*Vision digital edit station, and contributed with conceptual art, design, and illustration. Clients included Miller Brewing Co., PAF, and IGT Gaming.
Studio Manager
A&S Photo Studio
1990 - 1996
Senior of three co-managers of the A&S department store in-house photo studio, I supervised a staff of more than twenty-five photographers, assistants, stylists, and technicians along with an in-house E-6 processing lab. This studio was the fifth largest photo studio on the east coast at the time. I was also the team leader in transitioning the studio to full digital production, researching a variety of early digital camera systems. A&S was the first catalog house in the country to have a completely digital workflow, from shooting through prepress.
Freelance Commercial Photographer
Self Employed
1985 - 1990
As a freelance photographer working at a variety of studios all over New York City, including Nobart, Metel Studios, Vogue-Wright, Graphics 55, Mayo Studios, and more, I used primarily large format, shooting tabletop all the way up to large room sets, but also shot some fashion and model shots using medium format.
Commercial Photographer
Nobart Studios
1983 - 1985
Right out of college, I became a staff photographer at a large catalog house in NYC, shooting large format commercial work for clients such as Saks Fifth Avenue, Fortunoff, JCPenny, Zayres, Ames, Hills, Woolworth, and more.
Junior Photographer
Lewis Studios
1979 - 1983
After my freshman year at Syracuse University, I took a year off to work at Lewis Studios in Fairfield, New Jersey. I apprenticed as an assistant, quickly moving up to Junior Photographer. After returning to college, I worked at Lewis every January and every summer for three years, and after graduation, I had a job waiting for me at Lewis, only to be quickly poached by Nobart in NYC.